2017 Ford Raptor New Specs and Upgrades
The success of the Ford Raptor still has other automakers in crisis mode as no other major auto manufacturer has been able to deliver an "off the shelf" product to match the Raptor. There were many skeptics in 2010 when the Ford SVT Raptor was released but they were quickly silenced as the success was so astounding even Ford themselves were surprised. The "SVT" has been removed and Ford has renamed them to simply F-150 Raptors. It makes sense to offer a singular product line of trucks in the F series to create more brand cohesion and overall simplifying the product line. The Ford F-150 is still the best selling vehicle in America so it makes sense to follow the global recognition of the F-150 name.
Each year as new upgrades, specifications, and design tweaks are announced we are always very excited about what the next models of Raptors will include. The main selling feature of the 2017 Raptor is a newly designed high strength steel frame paired with an aluminum alloy body. This combo is said to reduce the overall weight of the truck by as many as 500 pounds! We aren't sure yet what alloys Ford has decided to use for the Raptor, maybe 7075-T6 for the body panels (they said airplane grade!).

Its hard to imagine that most owners of Raptors are constantly driving off road so having a more fuel efficient truck is going to be key for moving forward. Another way the new Raptor will increase fuel efficiency will be with the EcoBoost® engine. The all new 3.5 Liter EcoBoost® claims to be high output so that it can actually deliver more torque and power than the V8 6.2 Liter found in its predecessor. The new engine will be mated to a 10 speed transmission presumably an all new product from Ford as well. A brand new transfer case delivering power to all four wheels will be smarter and tougher as well to accommodate the many different types of off road terrain its owners will no doubt encounter.
With these upgrades comes 6 preset options for syncing the power to each wheel and braking capabilities independently for maximum control.
Normal mode for everyday driving
Street mode for higher-performance, on-road driving
Weather mode for rain, snow or ice
Mud and sand mode for muddy and sandy trails and terrain
Baja mode for high-speed desert running
Rock mode for low-speed rock crawling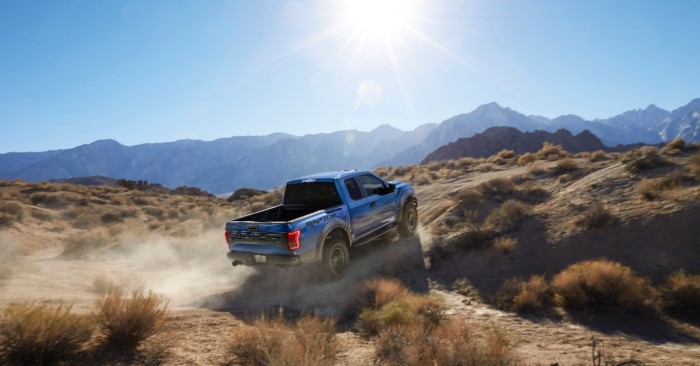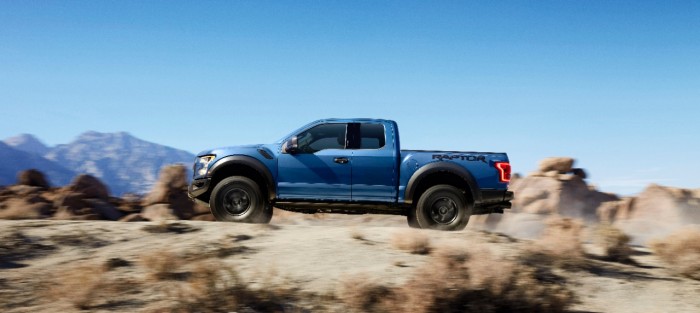 The ability to fly at high speeds over rocks, ditches and varying terrain depends highly on the suspension system. Ford will continue to use Fox Racing shocks that have internal bypass abilities. The exact amount of travel is currently unknown but listed as larger than past models which were setup for 11.2″ inches of travel in the front, and 12 inches in the rear. What we do know however is that they have switched to a larger diameter shock; from 2.5inch to 3inch, allowing more capacity for shock fluid and better distribution and dissipation of heat in heavy use situations.
A ten speed transmission provides much better control for different off roading situations and the transmission can be manually shifted using electronic paddle shifters. Taking notes from military style cockpits, the auxiliary switches are now mounted overhead on the left drivers side. Optional upgrades include LED lights, air compressor options and pretty much anything else available from aftermarket suppliers.
We sure are excited to see the growth and development of the Raptor over the years as Ford throws more and more hours and dollars into better off road racing research.
What type of upgrades are you looking for in the next Ford Raptor?