A Prerunner is a vehicle used for driving an off-road race course before the race starts. Prerunning is important to learn the terrain, identify potential hazards, and become more familiar with navigating an upcoming race. Prerunners must be capable of handling extreme off-road race courses albeit at much slower speeds and under a lot less pressure than during a race. There are many different reasons using a Prerunner rather than the actual race vehicle is beneficial. Prerunners generally do not need to be towed on a trailer because they are street legal. Prerunners also contain many of the luxuries that we are accustomed to in non-race vehicles such as air conditioning, power seats, radios, windshields, and wipers.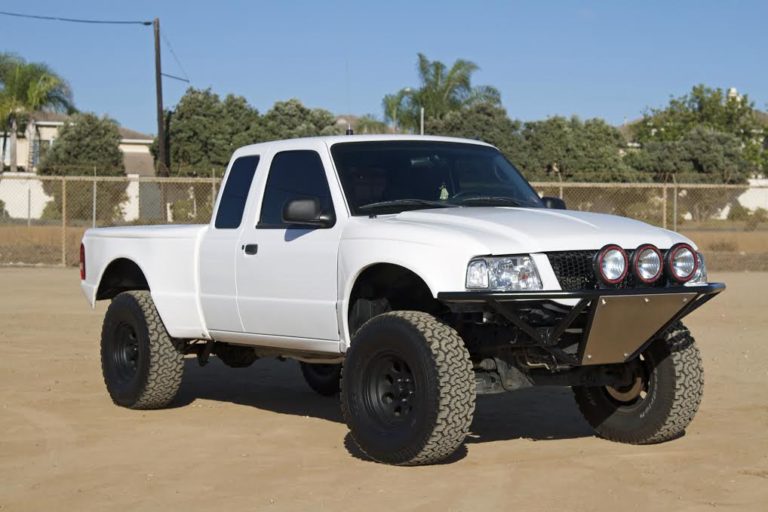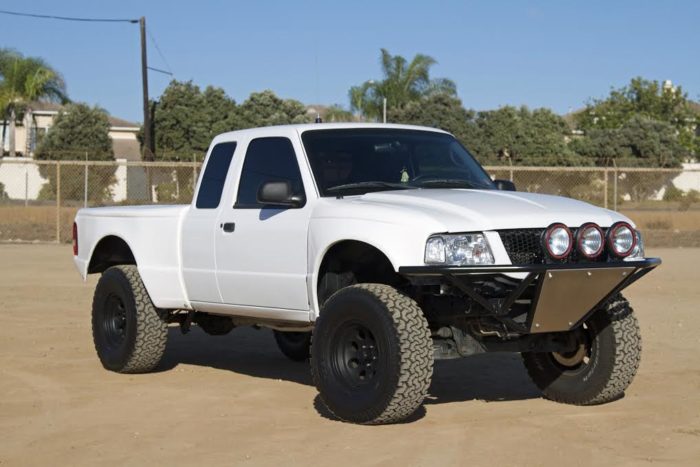 Why Prerun a Race?
Prerunning is important in off-road races with variable courses and long uncharted routes. The Baja 1000 is a prime example of a race in which prerunning is heavily utilized. Taking the Prerunner out weeks or even months before race day is helpful to get familiar with the terrain, scout alternate routes, find sections of silt, and locate where all the burros hang out. Not all teams in Baja can afford helicopters and expensive mapping and navigation systems so many racers do it the old-fashioned way by driving. In Baja knowing the course is only half the battle of making your way through the desert. Rouge cattle, bandits, and other hazards are detrimental on race day.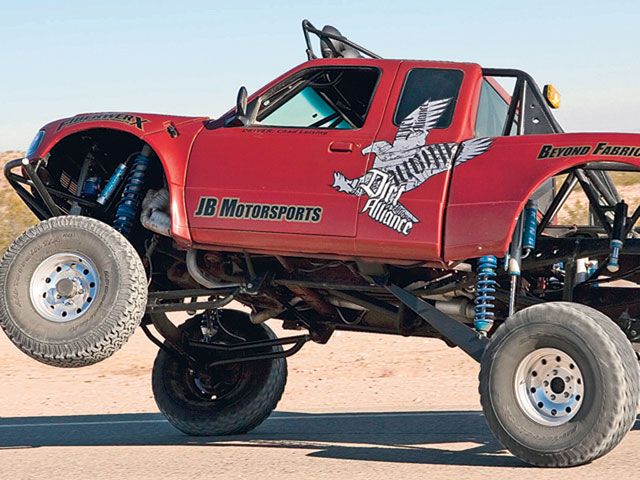 Common Prerunner Characteristics
Since the late 90s to early 2000s, prerunners have grown out of just the racing industry and into the mainstream. California, Nevada, and Arizona have a large culture of off-roaders who helped to popularize and mainstream the Prerunner. Now, Prerunner-style vehicles are commonly seen on everyday roads and freeways. Many off-road parts and fabrication businesses have been born to supply the needs of the Prerunner owners!
Suspension
Prerunners need to travel at relatively high speeds across varying terrains such as rocks, whoops, mud, dirt, small cliffs, and many other off-road situations. Due to these conditions, upgrading the suspension components is crucial to a smoother ride. New shocks, springs & control arms can help to achieve more "travel" in the suspension.
Long Travel Prerunner Suspension
Suspension travel is the amount of distance that the vehicle's wheels and tires can absorb. Imagine lifting a truck all the way up into the air with a car lift until the wheels are hanging as far down as possible from the vehicle. If you were to then drop the truck immediately to the ground, how much impact could it absorb? Out in the desert, if you hit a rock at 65mph you want a suspension that can absorb the impact and not cause the vehicle to bounce off and crash. Reservoir shocks add even more dampening capability by storing additional hydraulic fluid in a separate reservoir, which can aid in heat dissipation. Fox Racing, KING shocks, Bilstein, and Rancho are some of the most popular brands for shocks.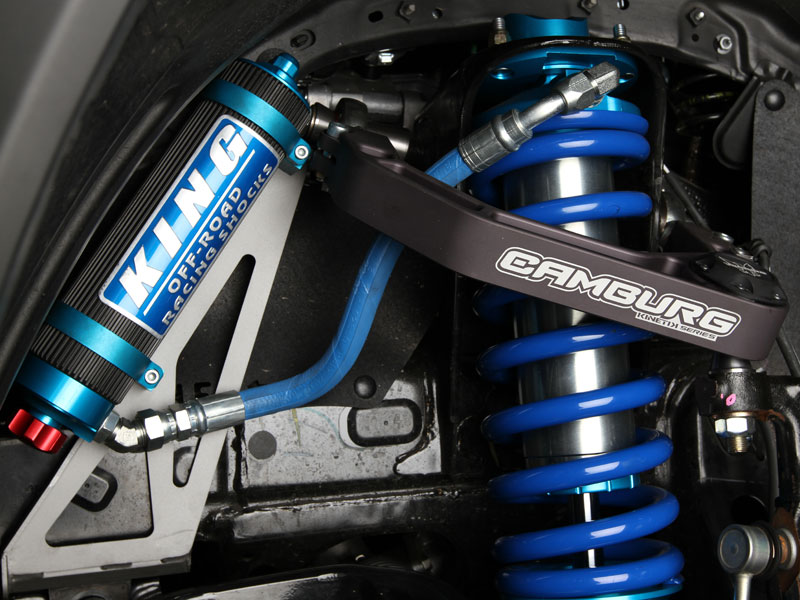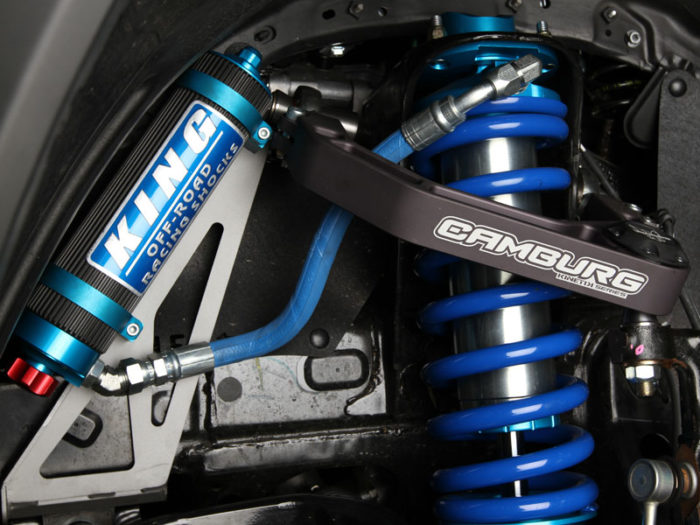 To get even more travel in the rear of the truck, creating a bed cage and running the shocks up through the truck bed itself is a common technique. Extra long shocks can be installed and securely mounted onto the rear of the truck. During the fabrication of the mounts for this, many people will add a spare tire mount in the back of their truck to get the spare tire out from under the bottom.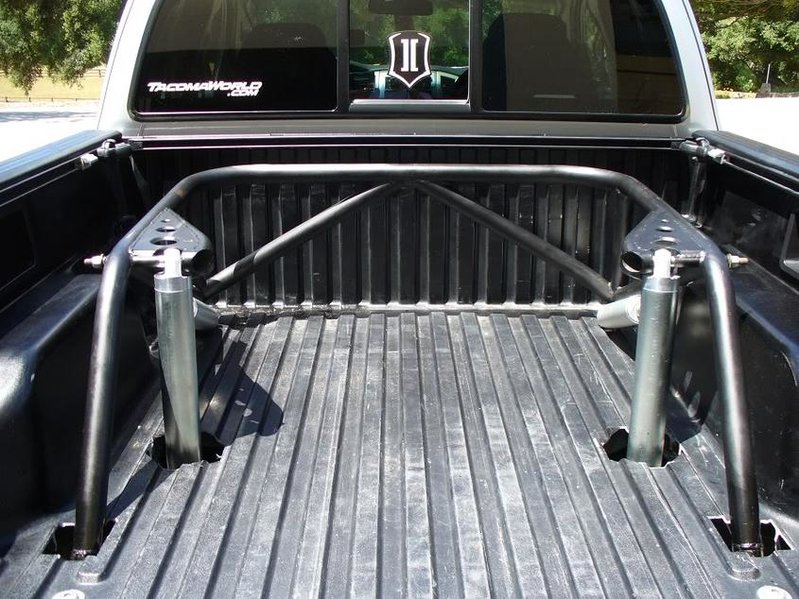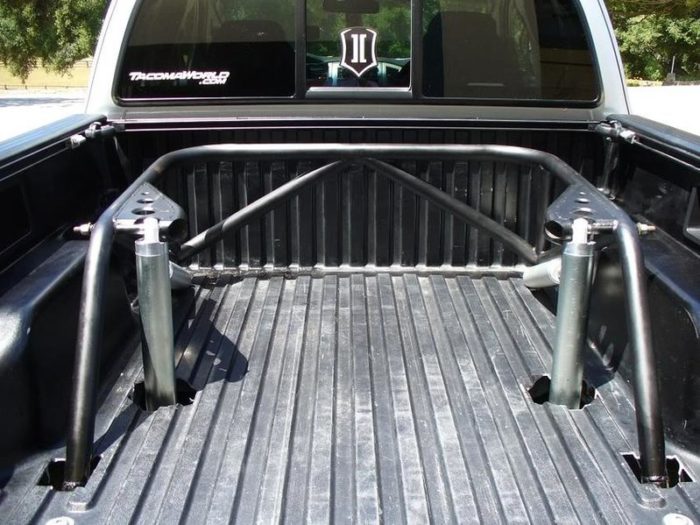 Stronger control arms, larger ball joints, and uniball pivots or Heim joints at the frame provide a much more abuse-ready setup. 4×4 trucks will require longer axle shafts since most of the long-travel suspension kits move the hub assembly out to deliver a wider width.
All Terrain Tires and Race Wheels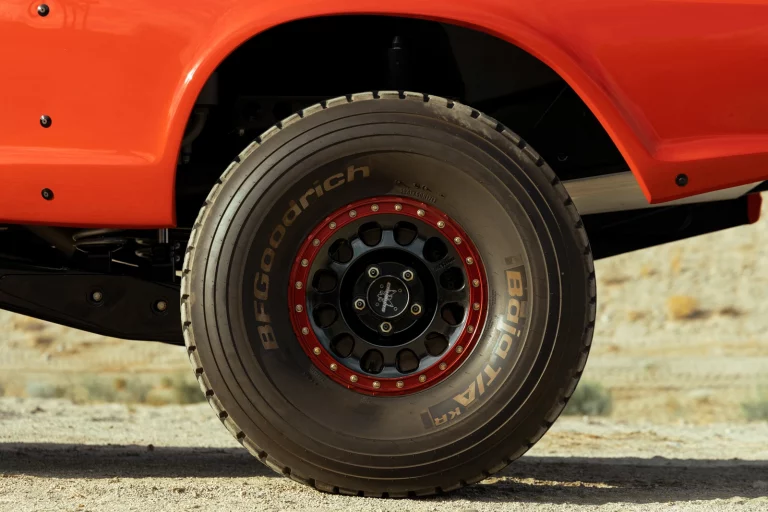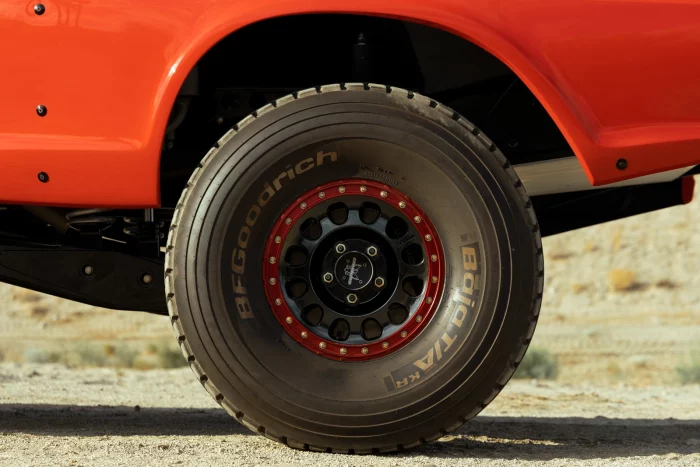 New wheels and tires are a must-have upgrade for any Prerunner and often make a huge impact in the terrain the vehicle can drive on with little to no other upgrades. BFG A-T KO or KO2's are some of the most popular tires for prerunners. Some owners stick with BFGoodrich for the brand name alone since they are synonymous with off-road racing. Many other manufactures are making great all-terrain tires now and some are cheaper.
The General Grabber AT/X is also a great choice and the Cooper Discoverer AT3 4S has decent reviews as well. Using an all-terrain tire makes sense for a Prerunner because you most likely will end up doing more freeway driving than off-road driving and it wouldn't make sense to wear out expensive soft exclusive off-road tires on the concrete and asphalt roadways. Beadlocks can be a contentious issue for Prerunner owners however there are DOT approved beadlock wheels available for purchase.
New wheels aren't a necessity if the 33" KO2s fit your existing wheels, however, joining the Prerunner lifestyle also means you'll want your truck looking good as well. Method race wheels have become the go-to for Prerunner wheels. Fuel, Procomp, and many other off-road wheel manufacturers make quality wheels that compete if the Method brand is not for you.
Flared Fenders and Fiberglass Bedsides
Prerunners have larger off road tires and an increased overall width so the stock fenders on most trucks no longer work. Not only do you experience rub while turning and possible tire to fender collisions on large impacts or jumps, it may actually be illegal to drive around without fenders that fully cover the tires.
To solve this problem there are aftermarket flared fenders for the front end and flared bedsides for the rear of the truck. These prerunner fenders are often made from fiberglass and Fiberwerx is usually the go to company for these products. Not only do they eliminate the aforementioned issues, they also give the truck that classic wide look.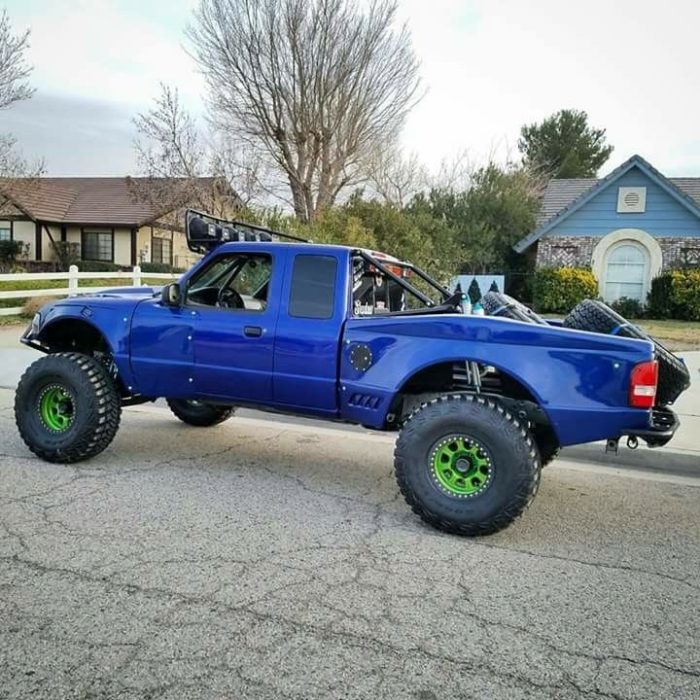 Prerunner Bumpers and Roll Cages
The classic shining aluminum front skid plate is a tell tale sign of a prerunner truck. A license plate is probably mounted directly to the skidplate at a downward angle. The classic prerunner usually has a tubular steel welded front bumper. These bumpers protect the front of the truck much more so than the stock bumpers and eliminate a lot of headaches that would normally result from things getting broken in the front.
Removing the stock front bumper eliminates a lot of dead space and the preunner bumper tightly hugs the front end. Any impacts to the front skid plate route the force down below the truck instead of straight into the truck. A bull bar or push bar can be added to the top for extra strength and to ease your mind about running into things or pushing them out of the way.
You don't commonly see winches on prerunners but there sometimes is some room for them under the bull bar.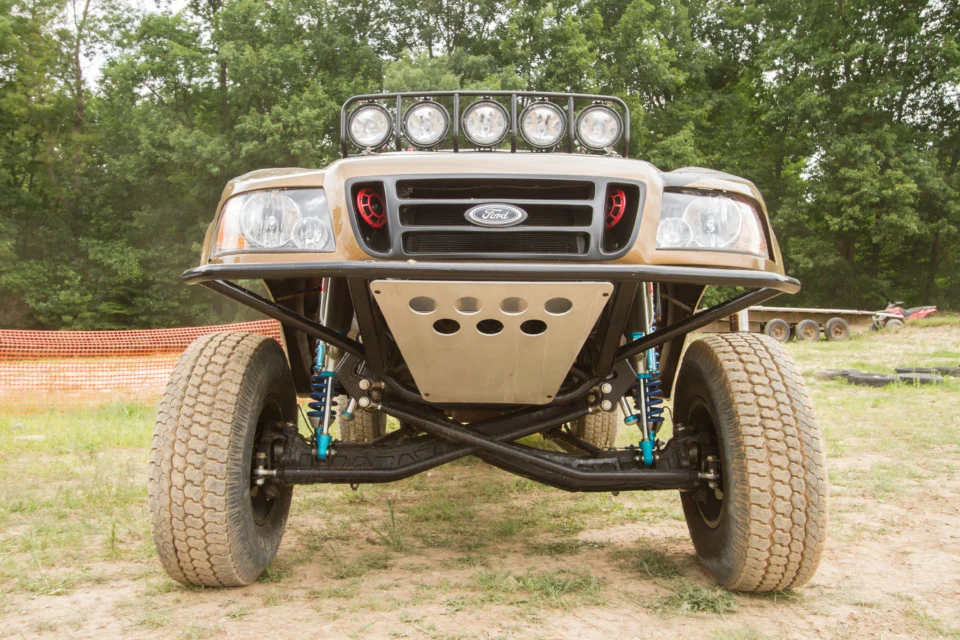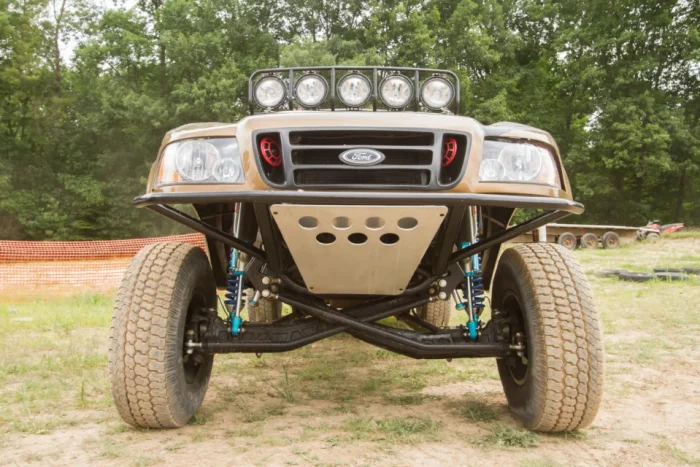 Roll cages involve a lot of work to install, especially if the truck will be returned to a stock looking interior. This means that all the carpet and seats and interior must be removed to construct a legitimate and secure roll cage. Afterwards it must all be added back in so it can really drive up the cost and time on a build. There are other alternatives of course such as partial roll cages, bed roll cages to prevent the cab from smashing in, and the dreaded exo-skelton style roll cage on the outside of the body.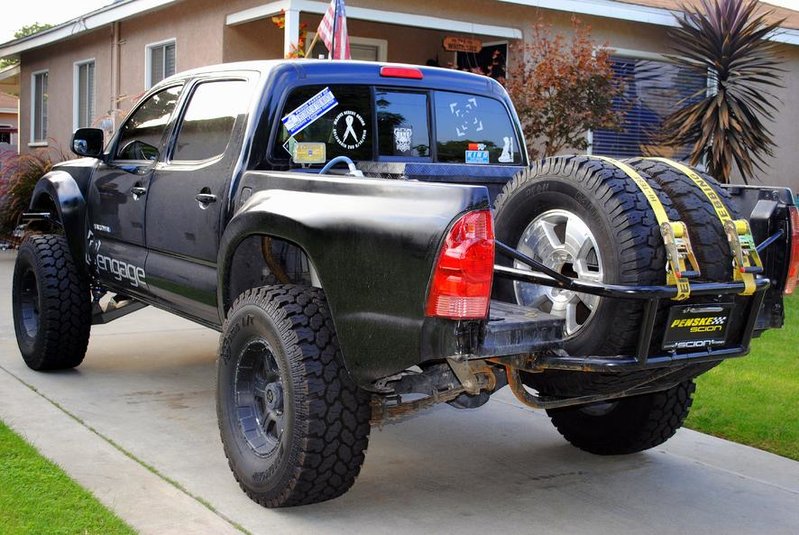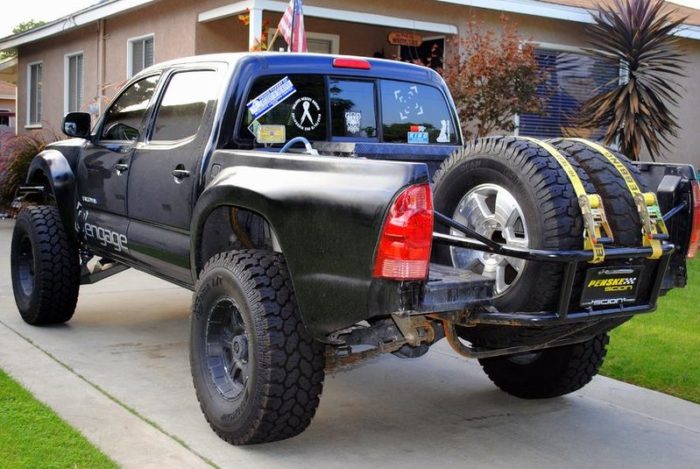 Moving the spare tire – and adding an additional spare – is a common sight in prerunners. By moving the tire out from under the bed more travel can be achieved, and you no longer run the risk of destroying the tire as easily. Some store their spare in a more flat position, while if you opt for two spares in the bed they are generally loaded perpendicular to the bed and strapped in with some high quality ratchet straps.
Additional Prerunner Accessories and Features
Lets not forget about some of the cheaper but still common accessories found in prerunner trucks. A good quality radio for communication such as 2-way or ham or VHF business band radios can be a nice addition to the truck. Its especially important out in baja to have a way to communicate with your team, friends, or really anyone in the case of an emergency where cell signal does not reach. Rugged radios is a popular brand among the off road industry and has many different radio kits for UTV's, prerunners, helmets, and more.
Lighting and most commonly, LED Lightbars, are crucial for night runs and exploring the unknown in the dark. In the case of a drop off or major obstruction, lighting enables you to react earlier and avoid many catastrophes. There are many different types of led light bars, spotlights, floodbeams and modular lighting systems to cover all of the necessary light types to really light up the night. The more types of lighting you have the better the odds of avoiding an accident at night.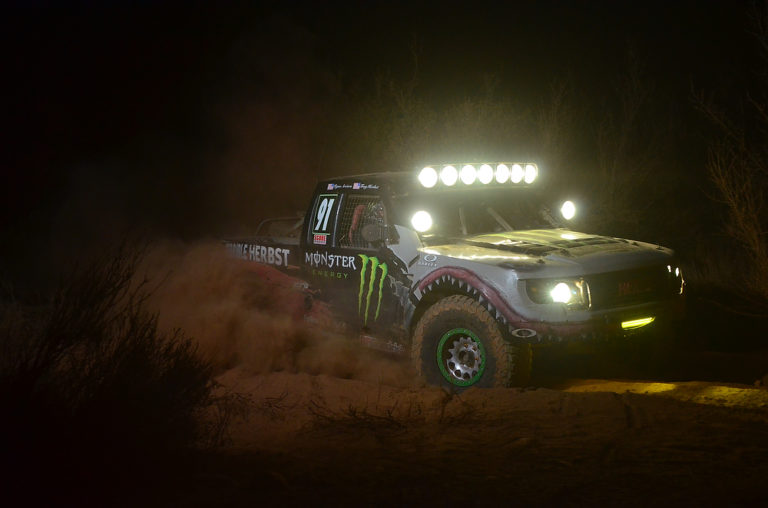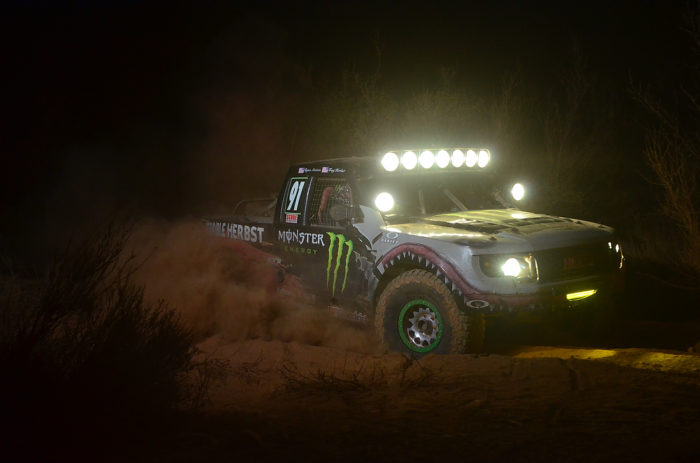 Some of the common safety equipment found in prerunners are 5 point harnesses or more secure seatbelts, fire extinguishers, emergency kits, and basic medical kits.
What are the most common prerunners?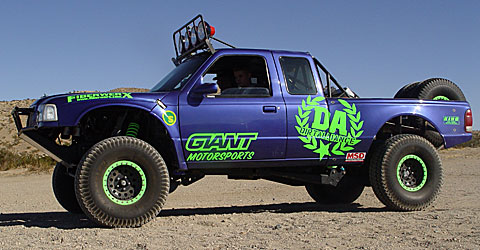 The Ford Ranger has had incredible popularity as a prerunner over the last 25 years and some say is the #1 pick. The Toyota Tacoma and the aptly but confusingly named Toyota Prerunner comes in a close second in many off-road circles. Every major vehicle make has found its way into becoming a Prerunner for someone. Nissan Frontiers, Chevy Colorado and Silverado, F-150, Dodge Daktoa, Toyota Tundra, and the list goes on.
Diesel trucks have been making an increasing appearance as prerunners even though they are usually quite a lot larger than the iconic 2 door ford ranger prerunner. Most of the time prerunners were 2-wheel drive but an increasing number of 4-wheel drive or 4×4 vehicles are joining the prerunner community.
Are there Pre-built Factory Ready Prerunners?
The release of the Ford Raptor sent some waves through the off-road community – some loved it and some hated it. The 2010 Raptor rolled off dealer lots with the capability to head straight to the nearest off road trail. The Ford Raptor experienced incredible demand and popularity among a wide audience. Recently Ford announced the Brono DR (Desert Racer) edition which looks to appeal to a similar but more rich audience. Toyota, Ford, Chevy, and Dodge have released various Trim packages and models aiming to be appeal to the Prerunner community. The Prerunner community is largely a do-it-yourself group and always finds a way to one up major auto makers.