Lifted Chevy Tahoe's are a great alternative to lifted trucks especially for bringing along more passengers on off-road adventures. The Chevrolet Tahoe and GMC Yukon have been around since the early 1990's when previous vehicle models were renamed. This culminated in the Tahoe and Yukon essentially becoming the same vehicles in 1994.
The Chevy Blazer and GMC Jimmy eventually became the Tahoe and Yukon on a unified chassis and body. Lifted Tahoe's are a natural extension of the love off-roaders had for the Blazer that preceded it. The Chevy Tahoe is one of the most popular full size SUV's in America.
"Seven of every 10 full-size SUV retail units sold in Q4 were a Chevrolet Tahoe, Suburban or GMC Yukon thanks to conquest and strong pent-up demand for all-new models"

January 2021 Press Release from General Motors
Now in its 5th generation, Tahoe trim packages boast many off-road options. The Z71 package comes with 4WD, adaptive air suspension, skid plate, hill descent control and more. The High Country trim even offers a 6.2L V8 with 420hp and 460lb-ft of torque. That is a lot of power to sling mud onto your buddy's windshield following you down the trail!
There are 5 major model year groups of the Chevrolet Tahoe and finding the right lift kit for your specific Tahoe will depend on the year of manufacture. Lift kits are broken up into the following years: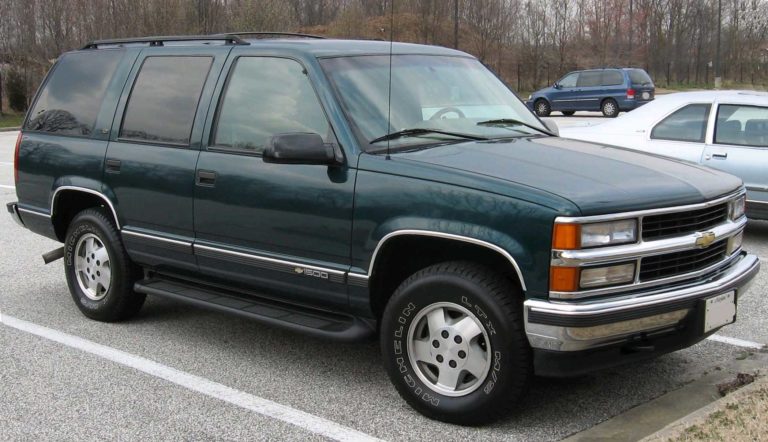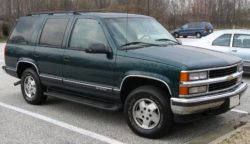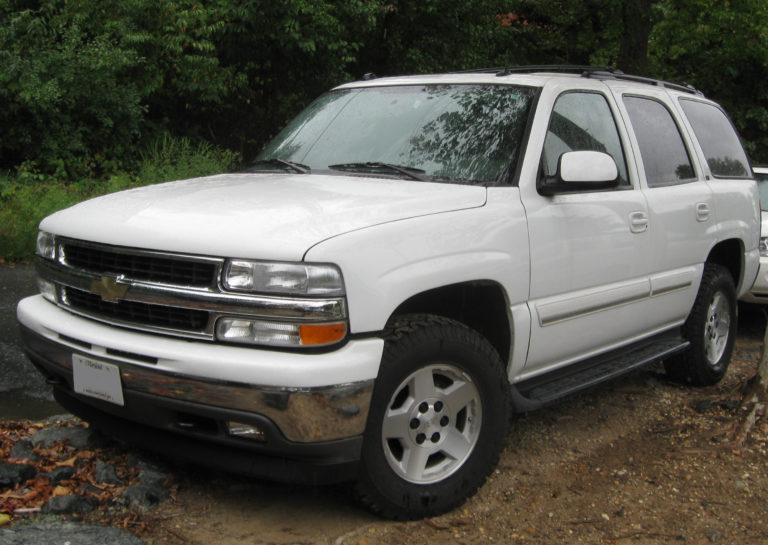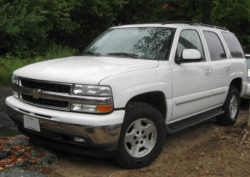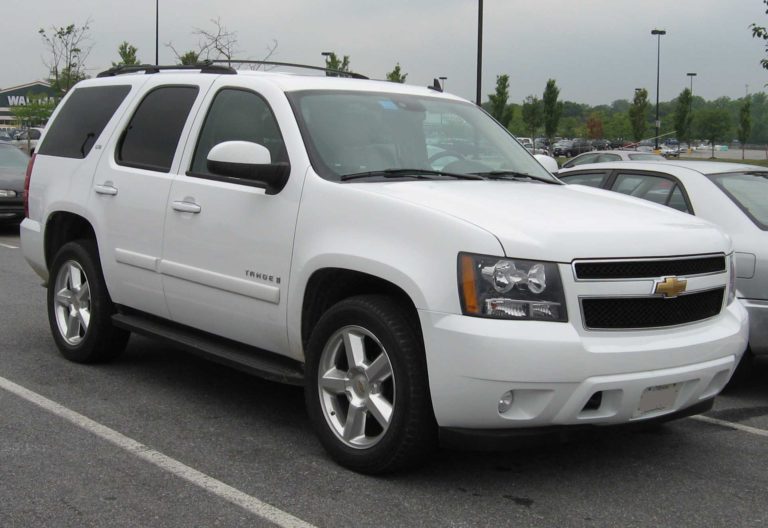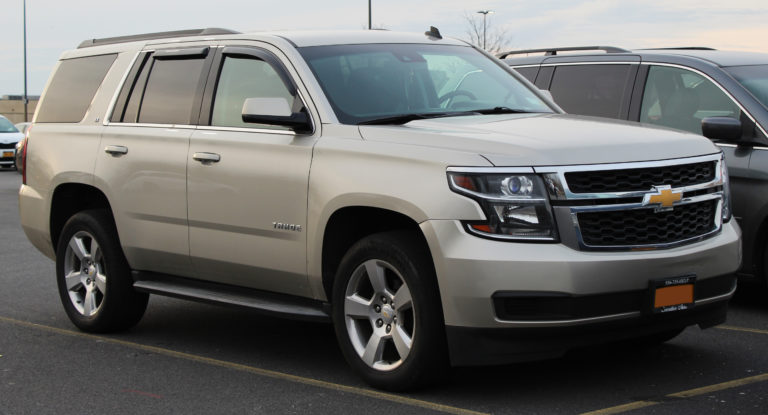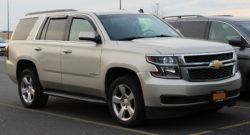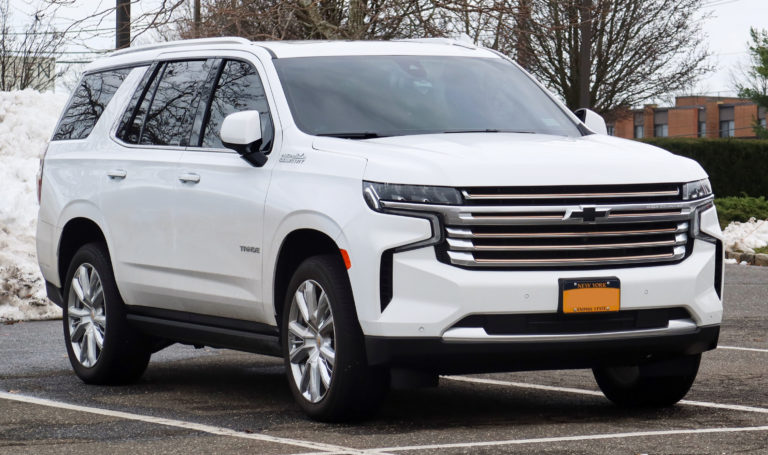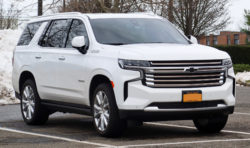 Most lift kits for Chevy Tahoe's range from 1 inch up to 7 inches. There are many different options of Tahoe lift kits like the 3.5" Ready Lift Suspension lift kit as well as the 7" Full Throttle lift kit. Some say it is possible to have a Tahoe on 33s with no lift, but the width of the tires needs to be quite narrow, the torsion keys need to be cranked all the way up, and you'll also need a little luck.
If a 6 inch Tahoe lift is what you're after to be able to run some 35 inch tires, this size has plenty of kits available from a wide range of manufacturers. Expect to spend around $2200-$2700 for a quality kit that comes with everything needed. Some lifted Tahoe owners spend $7k-$10k on some of the more expensive kits. 7″ and greater lifts start getting even more expensive usually with custom work needed and more expensive parts all around.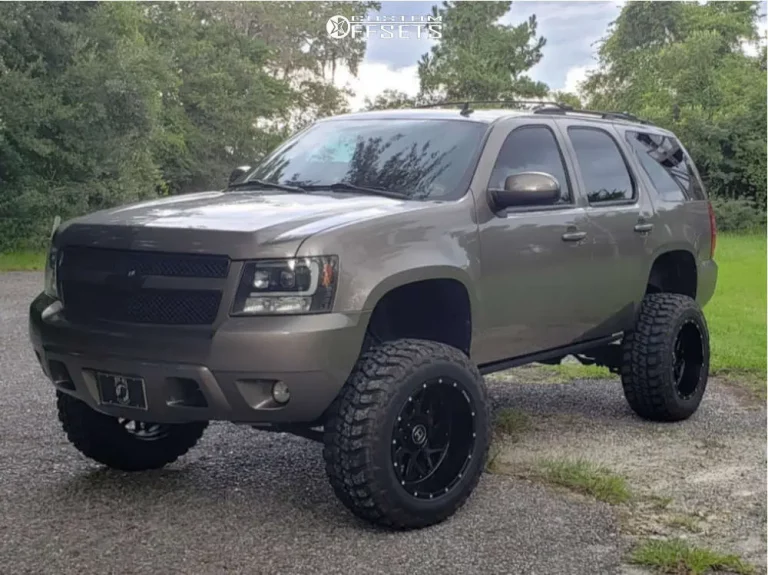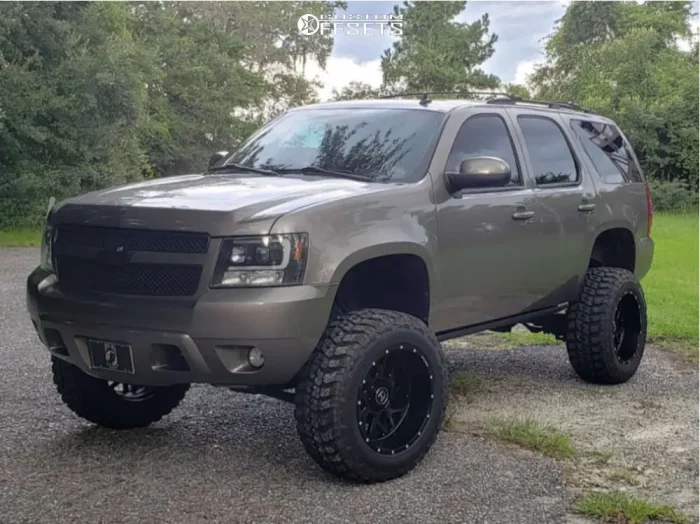 What is included in a Suspension Lift Kit?
Suspension lift kits will usually supply many parts such as diff drop brackets, cv spacers, lifted knuckles, and a few other drop brackets for the other suspension components. Some kits will require you to drill some holes and/or cut off some parts on the frame.
Some kits do NOT include new brake lines and routing your existing brake lines can be tricky. Keep in mind that you may need to order additional parts not included in the kit. The bigger the lift, the taller the shocks you will need. In some instances shock relocation brackets will be used and the stock shocks are able to be reused with the lift kit.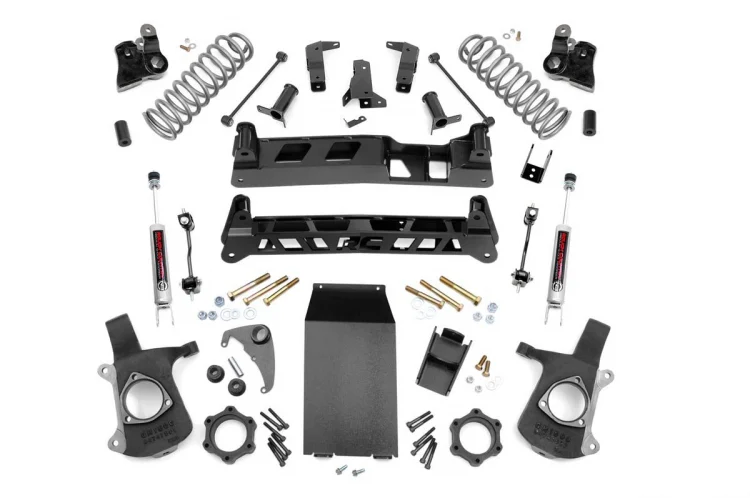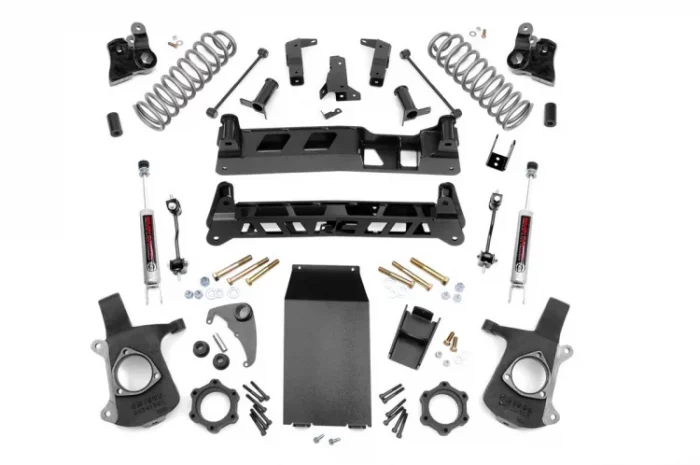 Small modifications such as trimming the brackets and supports will be required. In most suspension Tahoe lift kits you will want to make sure the following components are included:
Front
Lifted knuckles
Front cross member
Upper strut spacers
Differential drop brackets
CV spacers
Sway-bar drop brackets
Lower skid plate
Brake line brackets
Hardware
Rear
Strut Spacers
Rear cross member
Sway-bar links
Control arm drop brackets
Hardware
Lifted Chevy Tahoe's have greater ground clearance and a rougher and tougher look. Multiple manufacturers sell kits such as Rough Country, BDS, and Fabtech. A 6" Rough country lift kit will take around 7.5-11 hours to install. ome of the popular kits to turn your stock Tahoe into a lifted Tahoe:
BDS Suspension
Daystar
Fabtech
Jack-It
RCD
ReadyLift
Rough Country
Zone
Suspension Lift Kits vs Body Lift Kits vs Leveling Kits
Many Tahoe owners looking to change the stance of their vehicle may be happy with a cheaper body lift kit, or even a simple leveling kit. Since the Tahoe is also a great towing vehicle many of the models have a raised rear end to account for the towing load. Once you load 25 bags of cement or hook up to a trailer, the Tahoe actually becomes level due to the downward force of the added weight.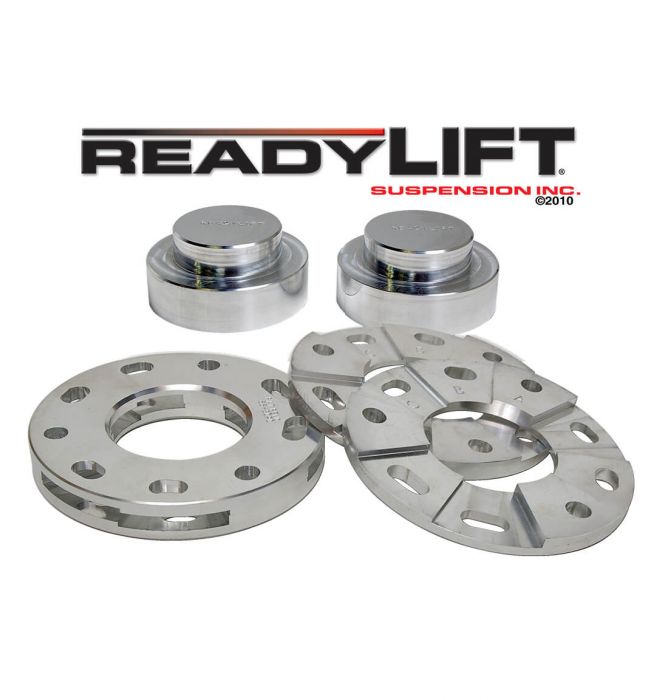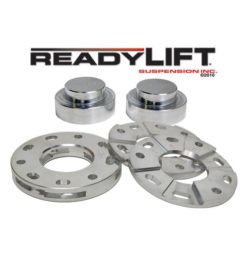 Lifted Tahoe's often also are leveled out and that can make their appearance much more sleek to many owners (awkward sentence). However if you simply want to raise the front end to match the rear end, leveling kits are substantially cheaper. Even a 1.5" lift will get you into the lifted Tahoe club. ReadyLift sells a 1.5" kit that fits 2007-2020 Tahoe's. This kit will raise the front end 1.5" and the rear 1". This ½" difference will still leave some rear end rake for towing and make your Tahoe stand out from other stock height rigs.
The $300 1.5" lifts employ rear coil spring spacers and strut extensions for the front end.
Body lift kits on the other hand are an in between option that provide only form over function. True lifted Tahoe's require re-configuring and lengthening the suspension components to raise the bottom of the Tahoe off of the ground and provide more vertical travel. A body lift gives the illusion that a whole new engineered suspension is in place but it only relies on blocks and spacers to raise the body up off of the frame.
A lifted Tahoe using a body lift will not be as off-road capable and will not increase the ground clearance of the vehicle. Body lift kits also do not require extensive installations and usually don't need any drilling or cutting. If you can turn a wrench, then you will be able to install a body lift kit.
Lifted Tahoe Wheels and Tires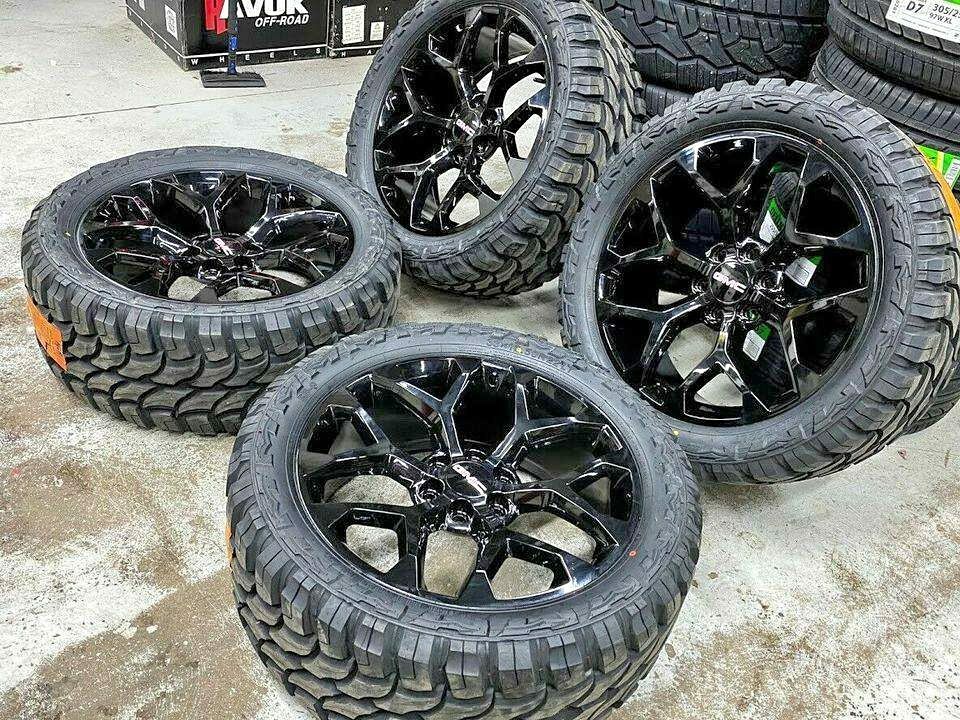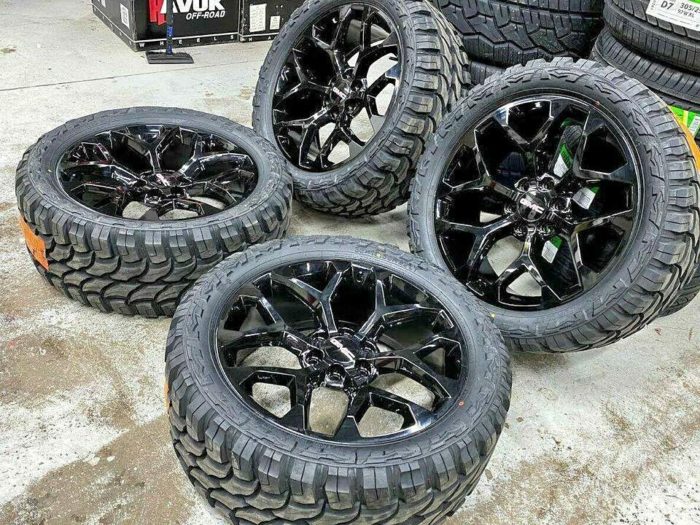 One reason lifted Tahoe's have such a tough look is because they have larger wheels and bigger wider tires. A 6-7" lift with 35" BFG All Terrain KO2's provides an aggressive off-road capable Tahoe ready to take on the trail. If you can fit 35's onto your Tahoe, some popular tire options are:
Toyo Open Country RT Tires – 35×12.50R20LT
Pro Comp Xtreme MT2 35×12.50R20
35″ Nitto Ridge Grappler Tires
BFG All Terrain KO or KO2
Aggressive tread patterns will make for more road noise. If maintaining a quiet ride is important, mud terrain or aggressive all-terrains should be avoided. While the tread designs may look cool, they can significantly affect the comfort of your ride.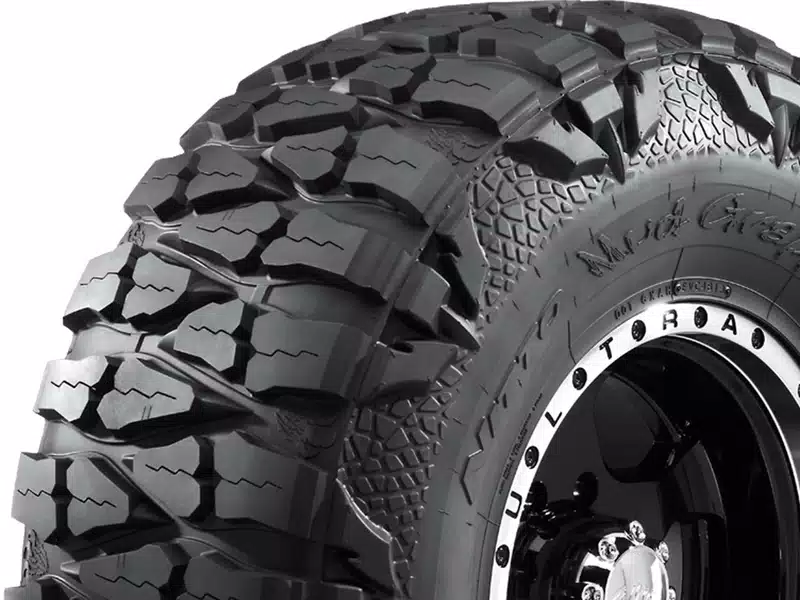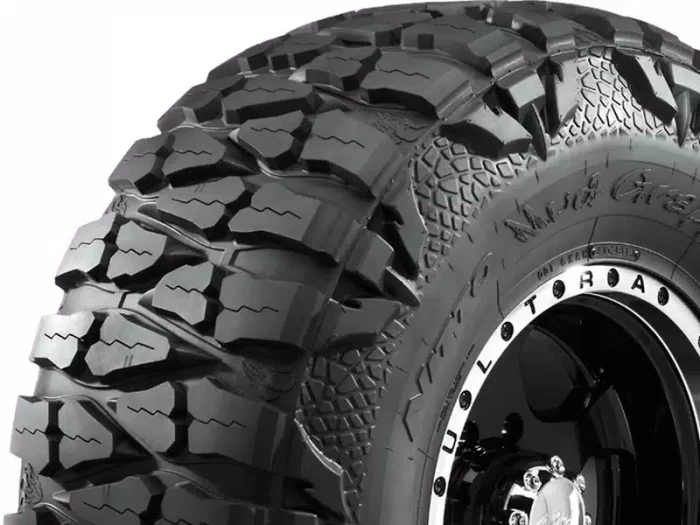 20" and 22" wheel diameters are popular sizes for lifted Tahoe's. Fuel Hostage, Moto Metal 988, Panther off-road, and Method Race Wheels are some great options for new wheels. Choosing a new wheel style can be overwhelming with all of the options available. Many lift kits will provide guidance on what wheel offsets are recommended with their specific kits.
As the owner of a lifted Tahoe you have a lot of room to express yourself with the wheel choice. Be sure to spend time browsing to find the wheel design and offset that really fits with your personality. Generally you can expect to spend about $4000 on new wheels and tires.
Lifted too high?
If the family still needs to be able to get into your lifted Tahoe keep in mind a 7.5" lift could prevent little Johnny from being able to climb into his car seat. Family owners often need to add steps for getting in and out of the vehicle. Classic tubular steps are a cheap quick option to allow for greater ease entering and exiting a lifted Tahoe. AMP Research sells sleek steps that automatically retract and extend as the vehicle doors close or open. These are substantially more extensive than the traditional fixed steps but look and function great.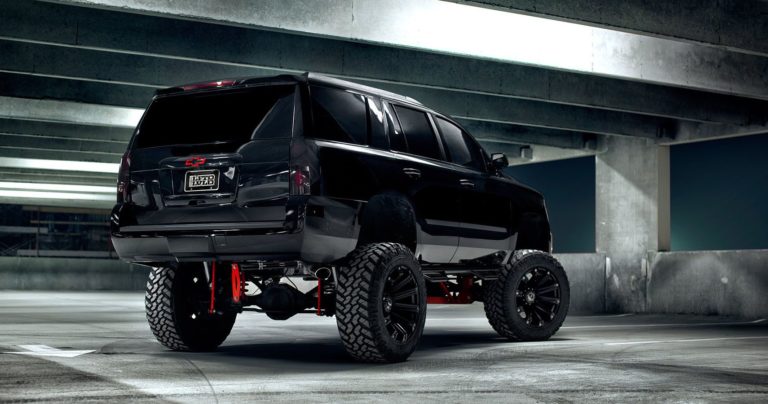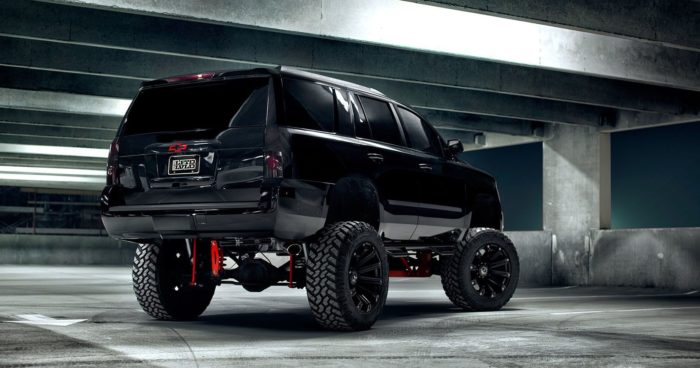 Final Thoughts
Whether you're looking to do a simple 3 inch lifted Tahoe over the weekend or a 12 inch custom lifted Tahoe, it's a simple 2 door Tahoe weekend body lift or a custom 12" week long project, customizing your vehicle is a fun way to express yourself. From the popular 6" lifted Tahoe on 20" wheels with 35" off-road tires to the 12″ completely custom Tahoe lift – there are sure some great head turners out there. If you have a lifted Tahoe and would like your picture added to this page feel free to reach out.