Lucas Oil Relocates the Season Opener to Las Vegas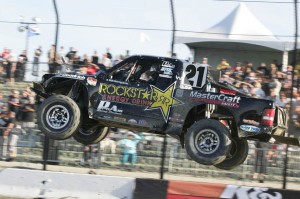 The first Lucus oil event of the year being held on March 6th and 7th will be relocated to the Las Vegas Motor Speedway. The race was planned to be held at the Lake Elsinore Motorsports park however the demands made by the park no longer contributed to a first class event. Lucas Oil Executive Vice President announced the move on February 19. The 2010 season is set to take off on a new track in Vegas that is a mile long and built specifically for racing. The track boasts ten turns and the highest banking of any track Lucas Oil races occur on. Ticket prices for the event are $30 a day for adults and $10 dollars for children. Reservations are now being taken for on-site as well as RV.
Lucas Off Road Racing Series is the only short course racing still in full sponsorship by a major company. Check out LucasOilOffRoadRacing.com for more details as well as the full schedule for 2010!!