TRD Pro Desert Race Truck Toyota Tundra 2015
With the 2015 SEMA show fast approaching in Vegas, we want to make sure you have time to checkout the Toyota Tundra TRD Pro Desert Race Truck. Toyota has taken on quite the marketing and engineering campaign to deliver a full race ready Tundra to hit the dirt in the 2014 Baja 1000. As soon as the SEMA show is over, the truck and chase team will head straight to Baja CA to hit the dirt. They are registered to compete in the Full Size Stock Class in the 47th Baja 1000. Lets hope the truck can make it to the finish line otherwise this PR stunt may backfire! The goal of course is to showcase the rugged construction and durability of the Tundra platform. The TRD pro-line and extra packages will sure be hot sellers if this truck and crew can pull off a top finish.
Here is a quick look at the drivers and crew:
Coach: Ivan "Ironman" Stewart
Navigators: Mike Sweers, Samantha Stone
Drivers: Andy Bell, Jamie Bestwick, Ryan Milen, Ted Moncure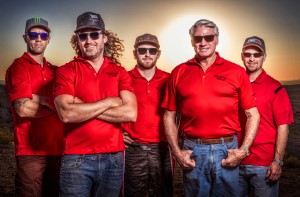 Since they will be competing in the stock class you wont see any game changing customization's from their Tundra Platform. In fact, only the seats, roll cage, intercom, navigation, and a few other items are different. How do you think the 2015 Toyota Tundra TRD Pro CrewMax 4×4 5.7L V8 will fare among the other competitors and vehicles in the class? It is definitely a cool looking truck and here at SocalPrerunner we wish them the best of luck!